Content Road Map in 2020
2020.02.25
Pascal's Wager will be releasing many updates and major content releases in 2020 around the following: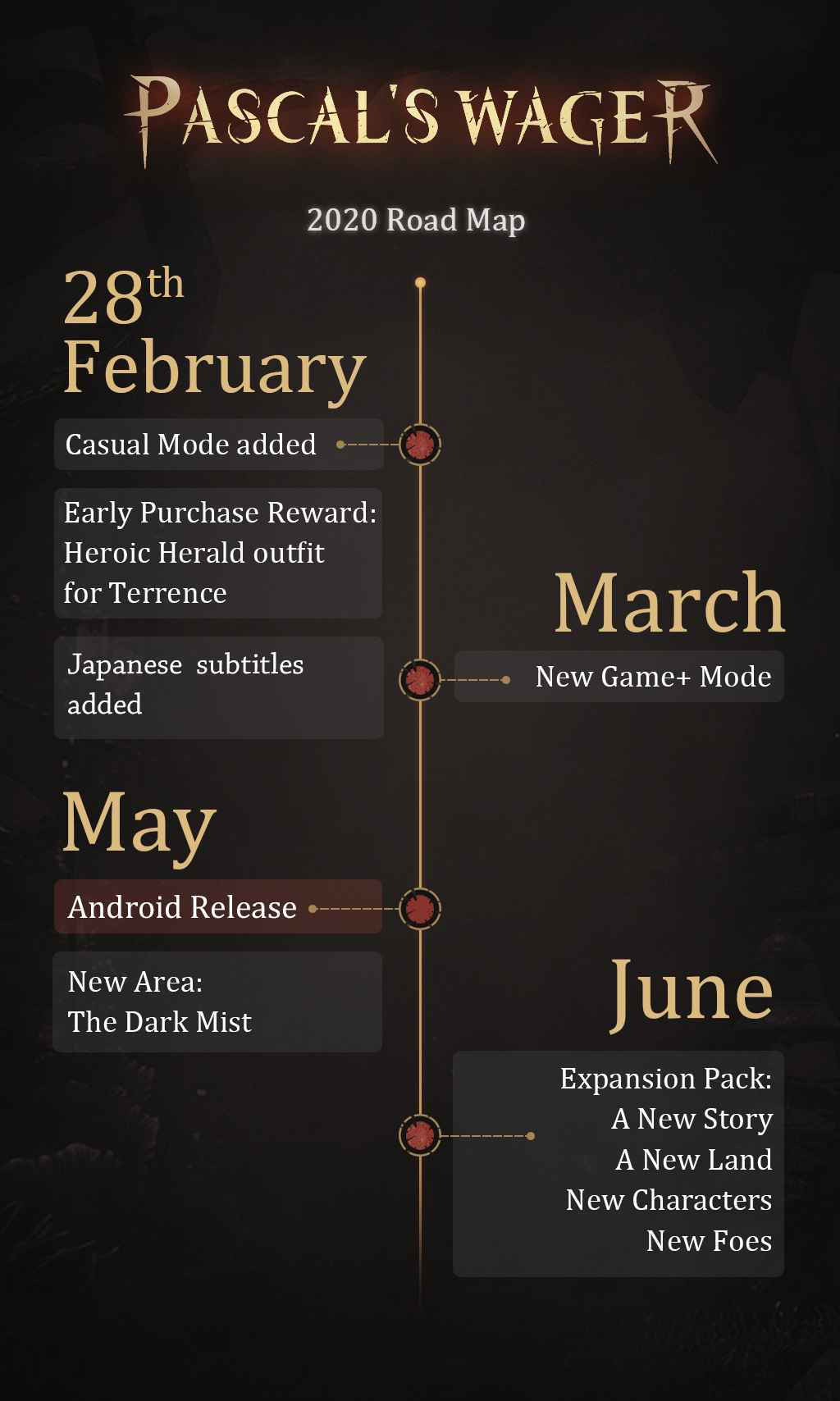 28th February
Major Content Update: FREE
1:Casual Mode added
Based on our Communities feedback and Player request, we've added the hidden guidepost which will help players better explore the world of Solas to the fullest!
Along with this, Players can expect a boost to all characters which will allow them an edge to excel in combat with the many foes they will surely come to encounter.
This should allow all players of various levels of skill to enjoy the deep story and exciting world of Solas!
2:Early Purchase Reward
The early purchase reward of the Heroic Herald outfit for Terrence, will be released for players to use in their adventures with Terrance.
3:Japanese subtitles added
We've been hard at work on getting the game subtitled for players to enjoy and the addition of Japanese subtitles is the first of many on the way.
March

Major Content Update: FREE
New Game+ Mode
We've heard players loud and clear on wanting to continue their adventures and we agree!
Players can continue the game from the very start with all of their important progressions such as Blessed level, Trophies and more.
Players will also find that they can use all the characters at the start of the game which will be needed as with any new game+, the difficulty of the game has been ramped up along with the enhancement limit of trophies.
May
Android Release
We are currently targeting May for the highly anticipated Android release of Pascal's Wager!

Major Content Update: FREE
New Area: The Dark Mist
A new adventure awaits those who wish to go deeper into the black fog, a place that even the most battle-hardened fear to tread!
Here you will be truly challenged by the Marred, be able to gather and collect new trophies and of course, find untold secrets!

June

Expansion Pack
This expansion pack will open up a new storyline with new characters, new scenarios, new lands to explore and of course, new foes to overcome!
The journey is not over yet! Stay tuned for more information!